This blog series deals with the redesign and realignment of learning and personal development in corporate context. For this, I connect the aspects human health, learner centrism, and continuous development to one holistic approach, called Holistic Learning Approach (HLA). With this approach, I want to encourage, motivate and inspire you to understand people and their learning as a whole. In part 1 of this blog series I described my motivation for this topic and presented my previous (learning) journey. In this part, I explain the HLA and its components in more detail.
What exactly do we balance in the work-life-balance?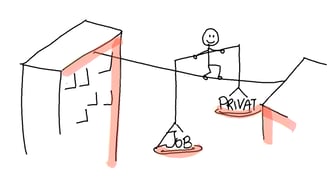 I have often encountered the term work-life-balance in my work environment. Every time I hear it, the image of a scale arises in my head, in which my work lies in one weighing pan and my remaining or private life in the other. Through this picture, I get the feeling as if they were two separate areas and as if I had to keep the balance between these two. As if one of the two aspects was exhausting and demanding and, thus, shifts the scale to one side and as if I had to balance this by placing more on the other weighing pan again. However, the sum of all our activities and decisions form our lives. Therefore, it is not our job that determines us alone, or our hobbies, material achievements or family
Is there a connection between job, motivation, commitment, health and leadership?
I want to live a meaningful and purposeful life. Are you feeling the same way? Then the profession or the work that we mainly pursue is an expression of it. In this case, it should be something what we really like doing and where we are motivated to further develop. Might that be as a teacher, mother, nurse, pilot, construction worker, gardener, professor, or politician or might that be all of it together at different stages in our life. It should meet the criteria that we like to get up for it in the morning and do it with all our heart. Is this motivation missing or if we consider our work to be meaningless, this has a direct impact on our work performance and even on our health. For example, the absenteeism report states, that employees within Germany have more than 50% (19,6 days) as many absences as employees who consider their work to be meaningful and feel comfortable in their company (9,4 days away from work). In addition, this also has an impact on mental and somatic illnesses, which are often associated with long-term treatments and limitations. Satisfied employees, for example, are much less likely to report such complaints.[1]
What exactly constitutes a meaningful occupation is of course something different for everyone. However, there are other aspects in the corporate context that can have a significant influence on it. For example, the manager can decisively affect the motivation and productivity, as well as the employee loyalty to the company positively and negatively by his leadership style. The Gallup Engagement Index 2018 clearly shows that a lack of commitment is linked to little engagement and motivation. The stronger the bond to the company, the more employees agreed with the statement that "the leadership I experience at work motivates me to do excellent work". This is 54 percent for those with a strong emotional attachment and thus every second employee, while it is only 19 percent for those with a low attachment. In addition, groups with little connection to the company complain that managers overlook their emotional needs.[2]
These are only two examples that already show how closely related professional occupation, employee motivation, loyalty, health and leadership are.
What makes the HLA a holistic approach?
The effects are verifiable. It is not just a feeling of necessity that is currently concerning more and more people. For example, the wish for a 4-day week becomes stronger and stronger [3], which also challenges companies in terms of their structures, cooperation models and mindsets. One more reason to develop concepts for this purpose, to compile current methods and to try it all out. Let's all get better here, because it paves the way for a flexible attitude towards the new!
We cannot relate learning and personal development to just one area of our lives and exclude it from the rest of our lives. Learning happens anywhere. The more we perceive all our activities as one big picture, the better we can benefit from all aspects learned, build on them and develop ourselves further. The HLA offers you an approach to achieve this, shows where learning is impeded within your company and provides ideas on how to improve this.
This contains:
The human health

– What about my own stress level or that of the employees in my company? Do I sleep and exercise enough? At what time do I work most productively in a natural way? How can these aspects hinder learning and change? Within the HLA, I present biological processes in the human body to you, which you can utilize for your own learning as well as designing learning for others.

Learner centrism

– The learner, that is yourself, is at the center of all activities. What are your strengths? What do you need to learn the available content? With which methods have you had good experiences so far and would like to use these for your own effective and sustainable way? How can corporate processes, work and learning offers be aligned and designed so that this approach can be implemented in a company?

Continuous development

– Our learning and our personal development never ends– independently of age. The term "continuous development" is directed on the one hand at the preparation of the content of learning offers and methods, and on the other hand at your personal development. In blog part 1, I called this part "continuous improvement". In my opinion, this does not cover it completely. Especially to describe personal development as an improvement seems inappropriate to me and implies a judgement. I present methods to you to approach development in the above-mentioned areas.
It is important to look at all the above points from different angles, as different expectations are placed on these issues by different roles. I put the three core themes health, learner centrism and further development in the area of tension between company - employee - leadership. I ask questions, suggest solutions and would be happy if you could share your experiences with me – How is the learning culture within my company? How much time do I get from my manager for my further training? How important is the further development of my employees for me as a manager? Are processes available to share and embed knowledge within the company, and how are these processes designed? Do I actively shape my learning process? What is expected of me as an employee, justified or unjustified? What do I as an employee expect from my company and my manager? The HLA presents important requirements and methods to you to influence the learning culture within your organization and your learning success yourself. Furthermore, I question the current situations and show potential for change.

How do I understand the relation between company, employee and learning?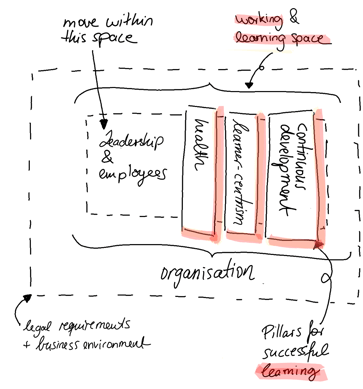 The company provides through his learning and leadership culture the foundation and framework for the learning and development of its employees. The employees move on their own responsibility and independently within the working and learning space. The available offers within this framework are learner centered and require a continuous development in cooperation with the learners. The company itself exposed to external factors such as legal requirements and business environment, which can in turn, affect the provided space.
The more people take ownership of these aspects and even develop holistic learning concepts (HLC) in companies the more natural become the topics agility, willingness to change, flexibility and ability to innovate. All of these topics are currently on everyone's lips due to the strong transformation of the business world. Of course, none of them are new inventions, however, they are currently clearly mentioned as important cornerstones to develop during this transformation. And, in my opinion they are important in order to meet the coming corporate challenges. Let's refocus on what makes us human: learning. It is not possible for you not to learn. Thus, a good learning culture is in direct correlation to the change culture of a company and paves the way to be more flexible in new situations and the way we think as well as to admit the unknown more easily.
This part of the blog series gave you an overview of the Holistic Learning Approach. In the next part you will learn more about health and its effects on our learning
What are your thoughts about this? Feel free to leave a comment. Would you like to be informed by e-mail as soon as another part of this blog series is published? Then simply click on "Subscribe to Blog Series".
You don't know the first part of the blog series? Click here, to read it. Further information about the topics Change and Learning are available on our landing page Change Management & E-Learning or contact us directly mailto:CommunicationServices@fme.de
Did you like it? Here you can read more:
Part 1 "Redesigning and realigning learning concepts"
[1] "Wer seinen Beruf mag ist selterner krank" - Ärzte Zeitung online, 04.09.2018, Alexander Joppich und Helmut Laschet https://www.aerztezeitung.de/politik_gesellschaft/praevention/article/970880/aok-fehlzeiten-report-2018-beruf-mag-seltener-krank.html
[2] "Jeder siebte Mitarbeiter fühlt sich nicht an sein Unternehmen gebunden" – Personalwirtschaft 05.09.2018, Ute Wolter, https://www.personalwirtschaft.de/fuehrung/mitarbeiterbindung/artikel/jeder-siebte-mitarbeiter-ist-emotional-nicht-an-den-arbeitgeber-gebunden.html
[3] "Work-Life-Balance: Wunsch nach der 4-Tage-Woche steigt weiter an" – t3n, 03.03.2019, Andreas Weck https://t3n.de/news/work-life-balance-wunsch-nach-der-vier-tage-woche-steigt-weiter-an-1147549/