It is the first Wednesday of November, a special day because today is our team lunch. Recently I have been working on a project to introduce an enterprise content management system to manage plant-specific documents. A multitude of installation, configuration and implementation tasks have to be done.
8:00 am - "Good Morning"
After a relaxed, stress-free trip to Braunschweig I reach my destination, the fme AG in the south of Braunschweig. Arriving in the office building I pass the reception desk team and I am greeted with a "Good morning" in connection with a beaming smile. What a nice start into the day!
Arriving at my workplace, the day starts with checking mails and retrieving internal company information from our social business collaboration platform Jive which we call "pulse". "Okay, one mail" - lunch order for today's team lunch. Furthermore, I see a question from another colleague from another company location in a group in pulse that I'm subscribed to and to whose solution I can and would like to contribute. Then I take a look at the current status of our task planning tool Jira. Ok - I still have several open tickets - my current one, the creation of "Creation Profiles" for certain document types, is 75 percent done. So, let's move on.
"What's 10:30 am?" But now I have to hurry up to place my order for our team lunch. Fortunately, I don't have to walk far, because the responsible person for this month is sitting five meters away from me. We organized it in a way that each month a different colleague is responsible for the order. After I have placed my pizza order, I dive back into the depths of the D2 configuration interface and dedicate myself to the property pages required in the new ticket for a document import.
12:30 pm - "Enjoy your meal"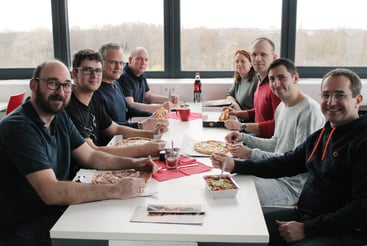 Slowly a small feeling of hunger is spreading - so the information that our food order has just arrived comes at the right time. Together with my colleagues I am sitting in the casino. We eat and talk in a relaxed atmosphere about current projects, cooking recipes, upcoming events in Braunschweig and the surrounding area and evaluate the photo tour that three colleagues took together in the Harz mountains last weekend.
1:30 pm – "Let's move on"
After a tasty pizza "Hawaii" and a small walk in the Bürgerpark across from our company building, a potentially occurring midday tiredness has no chance. With "well ventilated brain cells" I start into the second part of the day and start to retrieve my mails and information from our company again. Good news, I was able to help my colleague with my answer this morning! Now the question arises: "Why do I only retrieve my emails 2-3 times a day?" - For me, this approach is very practical, as I can concentrate on my tasks over a longer period of time without being disturbed by the pop-up notification window of my email program.
Okay, what's next? A new ticket - this time it's about creating a DQL script to create a Value-Assist table for another property page. Here a script has to be created from a CSV file with 108,000 records to transfer these records to the Value-Assist table for the initial filling. Here we go...
The DQL script is ready and can be deployed on the development system.
According to my gut feeling it's already 3:30 pm and so it's time for a coffee and a some candy from the candy bar. Two more colleagues follow me inconspicuously to the coffee machine.
When I arrive at the casino, I see cut vegetables - "Oh yes - Wednesday is sweets free Day." For this day sweets are banned from the casino and replaced by freshly cut vegetable sticks, dips and other delicacies. "All right, a piece of carrot and a piece of cucumber won't kill me." With a freshly brewed coffee and a small selection of cucumber and carrot, I return to my workplace and check the dqMan console. 4,500 data records from 108,000 data records have already been imported. By the way – the dqMan is a free tool for the administration of OpenText Documentum. It was developed by a colleague from Munich years ago and is available for download at https://en.fme.de/pro/our-products/dqman.
The DQL script runs in the background and I can turn to another ticket.
Again, this is about creating a DQL script for creating and filling another Value-Assist table.
5:45 p - "Beautiful evening"
An eventful and exciting working day is coming to an end and I'm already looking forward to tomorrow again, when it's again time for another "good morning" in connection with a friendly smile at me and tackling the tasks of my clients.