My name is Simon and who doesn't know me yet - I am the new working student in marketing at fme.
Now it's almost Christmas and our Rooftop-Party a while ago, but I want to tell you how it all started in August this year and how I felt when I joined fme.
I'm studying Media Management in the 3rd semester at Ostfalia in Salzgitter. As a flat of my own, tuition fees and the things of everyday student life unfortunately cost a lot of money, it was now time to look for a job as a working student. After a very nice and apparently successful job interview in marketing, I got an acceptance for the job on 16.07.2018. Overjoyed I told of course my family and friends that I now belong to the working population as well.
The induction
On 01.08.2018 it all begins. My first day at fme. I am very excited and do not know yet what exactly will expect me. A two-day introductory seminar is planned to get to know the basic processes, history and technologies at fme. Arriving I wondered about the large group until it occurred to me that the new apprentices also start their first day of training today.
In the beginning we went down to the cellar, with an outside temperature of about 34 degrees this is a welcome surprise. But it shouldn't be the biggest one this day. As I step through the door in the cellar, I find myself suddenly in an old, rustic bar. The Braustüberl, a relic from the past of the Feldschlösschen brewery, is our "conference room" for the next two days. Relatively bearable temperatures of "only" 25 degrees allow a pleasant working atmosphere and after six hours the equipment is set up, the history of the fme is heard, we got to know each other and internalized the individual areas of the fme. Quite a lot of input for the first day and the end of work calls me home, because tomorrow we will continue.
The next day starts with a big challenge. A guided tour through the entire building and almost all offices. A total of eleven new employees, who are guided through the individual BUs (Business Units), attract a lot of attention. While most employees are eagerly awaiting the newcomers, a few of them are leaving the office by leaps and bounds. Now the big round of introductions begins. Although many are on holiday because of the school holidays, the huge amount of names is a real challenge for me. To be honest, I have unfortunately forgotten most of them again, so I hope my colleagues won't hold it against me when I ask for the names from time to time. Over time, I will certainly get everyone in my head.
Arriving on the 4th floor, my future workroom, a colleague from marketing grabbed her camera, because a photo shoot was imminent. So I get to know another advantage of the fme - the rooftop terrace. The view is breathtaking, with the best weather. After a short rest I continue. Memorize escape routes, understand data protection regulations, set up and understand pulse our internal social business collaboration system, OpenText Documentum and Outlook. I am struck by the amount of input, but I am holding on bravely. I'm already looking forward to my work and want to get started. Incidently, I become aware of the summer party. I will not miss it. At the end of the day I am quite tired.
Since I am employed as a working student for ten hours a week, I have a few days off to process everything. However, I can hardly wait to see what exciting tasks await me and I am looking forward to seeing the colleagues again.
Party over the rooftops of Brunswick
In my studies, I get to know many programs, including the Adobe Cloud and WordPress. Immediately in my first working week as a working student, I get to appreciate my studies. Here in marketing the same programs are used. However, there are others, like smarp and Hootsuite, that I will deal with later. As I deepen my knowledge and get involved, the rest of the team in marketing plans, among many other tasks, the last moves of the big summer party.
On 10.08. the time has come, the rooftop party is coming up. I dress smartly and am curious what to expect. As I enter the Soldekk, a beach club on the roof of a parking garage here in Braunschweig, I realize immediately - all my expectations were far too low and are now by far exceeded. An exuberant mood, beautiful decoration, good food and cool drinks create a friendly and relaxed environment. I talk to numerous colleagues and get a lot of interesting stories about the fme or the private life of my colleagues.
But I would not be an employee in marketing, had I not brought my camera with me and so many good and funny snapshots were made. The weather delivers us a beautiful sunset and when it gets dark, we dance, sing and laugh until late at night. The Rooftop Party is a complete success. My start at fme could not have been better.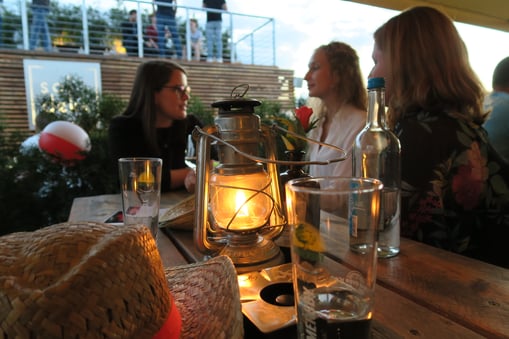 My future
In the next weeks I go to work with a good feeling. Even if I'm rarely in the office, I like being here, because here I find friendly people and a good working atmosphere. I have already arrived as a student student and can devote myself to my tasks. My tasks include the processing of employee blogs, storytelling, video and image production and the creation of new content. So you will hear more from me.
If you have any questions, feedback or suggestions for me or just want to chat a bit (as the North German says) please feel free to leave a comment. If you also work at the fme, come along and have a chat!