Veeva's 23R1 release is slated for April 21st release to all Vaults. As always, there are many new features and enhancements available in the new release, some of which require configuration efforts to enable in your Vault. fme is your partner in keeping your Vault up to date on all the latest improvements and functionalities. Let's review some key new features which require configuration effort and their potential benefits included in this release for the Vault platform, Veeva Vault QMS, and Veeva Vault RIM.
Rather than enforce a checklist of no-exceptions tests, the new Computer Software Assurance (CSA) model will be geared to the impact of any changes to a system. It will require new testing and associated documentation only if there is likely to be a direct effect on the product or on patient safety. Indiscriminate testing of logins and similar low-risk processes will no longer be required – or incur the risk of a failed inspection if not completed.
Vault Platform features
Multi-Record Workflow
With the last release in 2022, Veeva introduced the ability to route multiple records (i.e. Change Control, Quality Events, Audit records, etc.) on the same workflow at the same time. This is similar to how multiple documents can be routed for review or approval on the same workflow via the Cart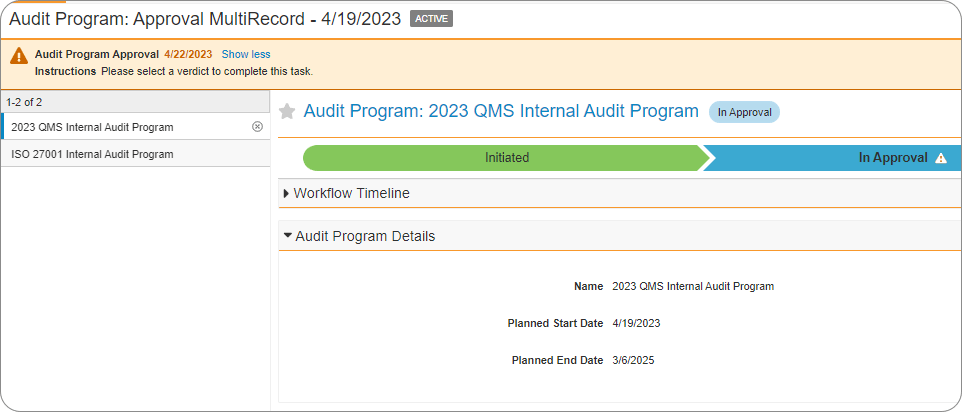 In 23R1 the ability has been added to remove records from a multi-record workflow based on defined conditions. For example, if some records have incomplete fields, they can be removed from the workflow based on the defined criteria to ensure that only complete records are routed in the workflow. This action will be reflected in the audit trail.
Additional workflow configuration refinements are available in 23R1 to limit the roles allowed to participate when a workflow initiator selects the users for a participant group. This ensures the person initiating the workflow can only select users to participate in the workflow who have the correct user role(s).
Interface enhancements
A few of the new features in 23R1 provide interface enhancements for the system users. Tab Collections can now be created based on the user's system permissions. This option can enhance a user's experience in the system by providing an additional organization level for how information is displayed and accessed.
Another great enhancement that can head off frustration in users is that multi-select fields can easily be ordered alphabetically. Previously this required that a ticket be submitted to Veeva Support to configure.
Veeva QMS
In Veeva Vault QMS, several new features provide additional functionality to users if configured in the Vault.
The ability to perform and document a 5 Whys Analysis can assist in root cause analysis (RCA) of Quality Events or Complaints. Using the 5 Whys Analysis methodology, a Root Cause is identified by identifying a problem statement and iteratively asking 'why' the issue occurred up to five times. This is known to be a very effective RCA tool, and in 23R1 functionality has been added for this process to be completed and documented within Vault. Once the Root Cause Analysis reaches the Complete state, Root Cause records are automatically created by Vault.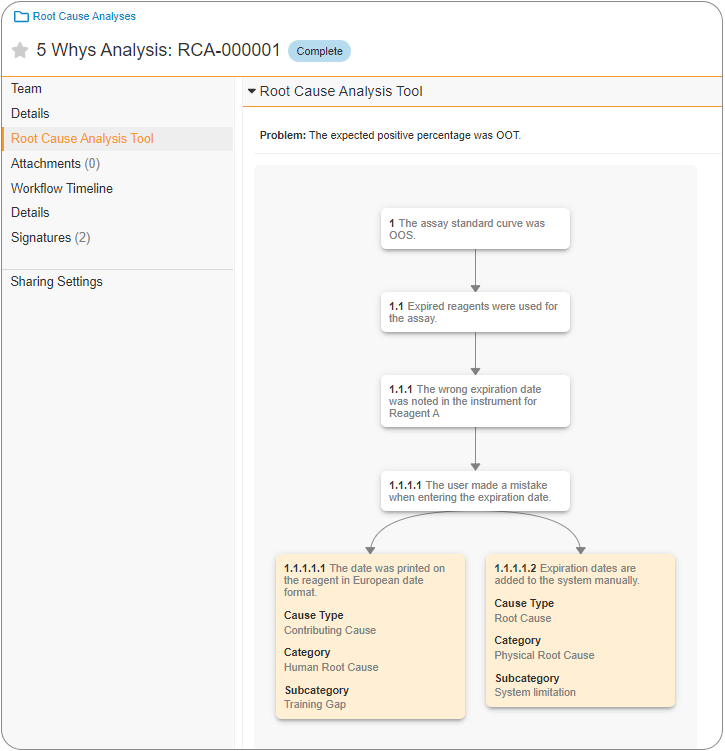 Improvements are also available to the Risk Management functionality, which will allow users to enter data quickly and easily for risk events via the new Risk Builder Tool when performing PFMEA assessments. This feature makes it easy to enter multiple risks for a single risk assessment and allows for these risk items to be evaluated simultaneously.
There also are new features to automate tasks in the Vault. Configuration can be added for Vault to automatically create the associated Proposed Audit records based on the Planned Start Date and Planned End Date of the Audit Program. Vault QMS also now supports the ability for automated intake of supplier change notifications received via email within Vault. This facilitates triaging the change notification and assessing for impact while bypassing the need for manual input of the change notification details. In addition to the Vault configuration activities, some additional configuration on your email server will be required from your internal IT team.
Finally, the Recurrence Check capability in QMS can be used for custom Quality Event object types, not just the standard out-of-the-box Quality Event types. This enhancement will, once configured, allow your business to identify recurring events for all Quality Event object types.
Vault RIM
In RIM Registrations the Registration Verification workflow can now be reconfigured as a multi-record workflow as well so that multiple records can be routed on the same workflow in parallel, similar to the multi-record workflow described for Vault Platform.

In RIM Submissions, several improvements to Content Plan functionality have been made available.
A feature can be enabled to allow users to create a Report Level Content Plan by copying from an existing Report Level Content Plan. The action copies the Content Plan, Content Plan Items, and the matched documents.
A new field can be added on Submission, Event, and Constraint objects to allow for more granularity for excluding and creating Content Plan and Content Plan Item records as inactive based on the selected criteria.
Also, a new Update Content Plan Study Section action is available for configuration. This action moves valid study sections related to the Submission Clinical Study or Submission Nonclinical Study within the Submission Content Plan to a new location when Clinical Study Type or Nonclinical Study Type fields are updated.
In RIM Submissions Archive a new useful feature that can be configured is the ability for Vault to display a special styling when sections are empty in the new Submissions Archive Viewer that was launched with 22R3. This will provide a visual cue to the user that Submission sections do not contain content. The functionality is also available for users to select and view inactive Applications and Submissions in the new Submissions Archive Viewer.
Learn more about Veeva from fme
These are some of the interesting new features available in the Veeva 23R1 release. Contact fme for details on additional changes that could impact your environment, and for assistance in configuring, validating, and promoting these changes to production.
About the author
Amanda Hancock is a Principal Consultant with the Life Sciences business unit at fme US. She has over 20 years of experience in the Life Science industry, working in the clinical research and diagnostics sectors. Amanda started her career in 2000 as Research Assistant at The Ohio State university and later worked in the roles of QC Analyst, Quality Assurance Manager, and Quality Assurance Director before joining fme in 2022. In addition to being a Certified Quality Auditor (ASQ), Amanda is a Veeva Vault trained professional holding Associate Administrator certifications in Veeva Vault Platform, Veeva Vault QualityDocs, Veeva Vault QMS, Veeva Vault Submissions, and Veeva Vault Submissions Archive.

Are you interested in future blog posts from the life sciences area? - Please follow us on our social media accounts.